EXCHANGING LETTERS:
TO
TACCHON
:
I can't wait to go to Takahashi Yuu's live together with you. One more thing, I haven't picked up the watch that I ordered that day so why don't you come together with me if we finish up earlier today *love*. From: Yasuda Shota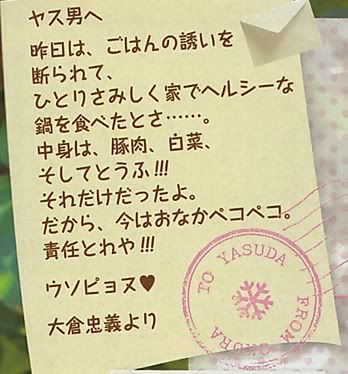 TO
YASU **OTOKO
:
Yesterday I got rejected when I asked you to eat out together. I felt lonely when I ate healthy Nabe at home.....
The fillings were pork and Chinese cabbages and TOFU!!! Those were the only things I ate so now my stomach's cringing again . It's all your fault! (You should take the responsibility for this)

Just joking!!!!! *love*

From Tadayoshi Ohkura
** I'm not sure if it is pronounced correctly or not.
Current Mood: confused
Current Music: Bird, Matsushita yuya